6/22/18: Jackson Browne "Boulevard"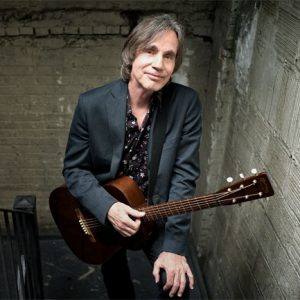 Jackson Browne! He's incredibly talented, a quintessential Californian singer/songwriter, and he's given us so much good music over the years. I've been hearing one of his songs in my head for so long now that it almost like I'm having a conversation with him. Which isn't all that hard, considering that Browne is known for his exceptional songwriting skill and terrific lyrics. The man knows how to tell a story!
Jackson Browne has a great body of work, starting with his self-titled debut album way back in 1972 all the way to today. In the '70s he was coming out with a new album just about every year, then about every three years in the '80s, and he's slowed down even more since then. He's still coming out with new material, though, and still playing concerts all over the country – even though he's getting close to 70!
Jackson Browne has given his fans some wonderful songs over the years, and he's sold nearly 20 million albums in the U.S. alone. Songs like "The Pretender," "These Days," "Running on Empty," "Somebody's Baby" all see considerable radio play and did really well on the charts. One of my personal favorites is "The Load Out," a tribute to roadies and support staff, that's followed by his version of "Stay." That one was recorded live on the "Running On Empty" album. It just worked, and since then it's become a standard.
Jackson Browne even co-wrote "Take It Easy," the first big hit for The Eagles. He's in the Rock and Roll Hall of fame, and he's on Rolling Stone's list of "100 Greatest Songwriters of All Time," clocking in at number 37. Not too shabby! It's hard to talk about Jackson Browne without mentioning his social activism. He was a major part of the "No Nukes" concert, and has made efforts alongside other artists and on his own to be involved in various causes over the years. Name a left-leaning issue, and you'll probably find Jackson Browne not only aware of it, but willing to jump in with both feet in support!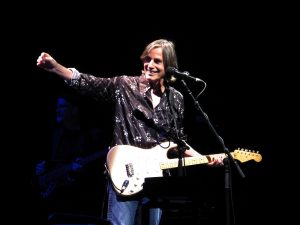 Most of Browne's music – especially his early stuff – was laid-back, mellow fare. That's what made him famous. There were some exceptions, of course, but most of it stayed within that general description. His sixth album was called "Hold Out," and some of the songs on it were different than what folks expected. It wasn't well-received by critics at the time, and more than a few longtime fans were turned off by it. I have to say, though… it's one of my favorites! I never really cared too much about what critics had to say, anyway.
I played "Hold Out" a lot during a lonely time in my life, and some of the songs on there really touched me. Especially "Hold On, Hold Out," "Call It A Loan," and "That Girl Could Sing." I wasn't too crazy about "Disco Apocalypse," but the album did include a really uptempo rocker called "Boulevard." I found myself singing that one quite a lot back in those days, and while I hope nobody was listening I certainly don't regret it! I started thinking about "Boulevard" last night, I don't know why, and when I woke up this morning it was playing non-stop in my head. So, here it is! Give it a listen, and tell me what you think!