2/21/18: The Rolling Stones "Sympathy for The Devil"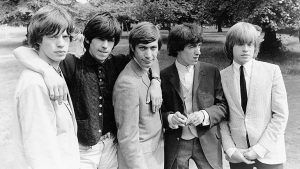 I'm talkin' 'bout some classic rock n' roll today! It's the Rolling Stones, one of the biggest bands in rock! They've got one of the most extensive music catalogs in history, cranking out good tunes since the early '60s, but there's one I can't seem to get out of my head today. Tell me, can you guess its name?
When they were young, the Rolling Stones were avid fans of all those great African-American blues artists, and any time they could get their hands on those classic records, these young English guys would listen and learn. Keith Richards just loved those old blues licks, and back in those days Brian Jones did all the emulating he could to develop his style. Mick Jagger taught himself to play the harmonica, and soon there was a new blues band playing in England. With their strong blues background, becoming a landmark rock n' roll band was inevitable for the Stones.
When the hits started coming in the '60s, the Stones didn't stop rolling. It seemed that every week there was a new band in town who was doing it bigger and louder than before, from The Beatles to the Dave Clark Five, The Animals to The Who. When all these UK-based bands made it to America, well, you know what it was called: the British Invasion! When Beatlemania was overtaking the States, The Rolling Stones were the bad boys who stood directly in opposition to the clean-cut Fab Four… and there was enough room in the music scene for both bands to become superstars!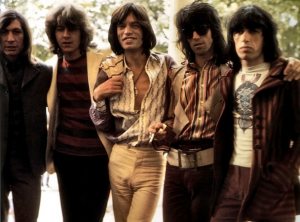 So, here we are, more than a half-century later. Mick Jagger and Keith Richards are still out there playing music, now in their 70s. Craggy faces and all, they're still out there doing it. Charlie Watts is still keeping the beat, and while Brian Jones is long gone from the world, Ronnie Wood (who came over from Rod Stewart and Faces) is a perfect foil for ol' Keef.
One of the earlier hits for the Rollings Stones came from an album released in late '68, called "Beggars Banquet." It was largely a Jagger/Richards composition, penned to be "sort of a Dylan tune," according to Jagger, but it was Keith who suggested turning it into a real rocker. "Sympathy for the Devil" is one of the finest tunes by the Rolling Stones, and I was hearing the words first thing this morning as I stumbled out of bed. "Pleased to meet you, hope you guessed my name, but what's troubling you, is the nature of my game!" You can't go wrong with The Stones, and you certainly can't go wrong with this roots rocker!