10/4/18: Night Ranger "Sister Christian"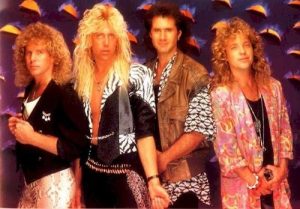 Night Ranger is a band out of San Francisco that came together back in 1979. They started having hit records in the early 80's, and started selling a lot of albums not only here in the states, but all over the world. To tell you the truth, I don't really know a lot about them, except for one song: "Sister Christian." I remember that song so well because it was featured in "Rock of Ages," the musical that was at DPAC a few years ago. It was a great show and if you ever have a chance to see it, there's a lot of great music in it from the whole 80's decade!
Night Ranger is still out there performing, after all these years. Like most bands, they've had some personnel changes, but they're still popular, especially in Asian countries…or so I'm told. Again, I don't know a lot about the group, and what I do know, it's because of this song, which is a good one. Take a listen and see what you think it's about It could be about a schoolgirl obsessed with finding "Mr. Right," like in "Rock of Ages," or it could be about something else altogether. At any rate, it's "The Music in My Head" today!