1/30/18: Paul Revere & The Raiders "Let Me!"
Paul Revere & The Raiders were a group with humble beginnings in Boise, Idaho. I always thought of them as a West Coast band, but I guess it goes to show that where you're from doesn't always line up with where you're going.
Paul Revere Dick started an instrumental rock band called "The Downbeats" early in his career. Not long after that, he went off to serve in the U.S. Armed forces, which obviously put a stop to his musical pursuits. When he got back to the States, he and a couple guys moved to Portland, Oregon to try the whole music thing again, around 1962.
In his early 20s, Revere was apparently quite the entrepreneur, owning several restaurants. The story goes that he was in Eugene, Oregon one day, picking up hamburger buns. That's when he met Mark Lindsay, who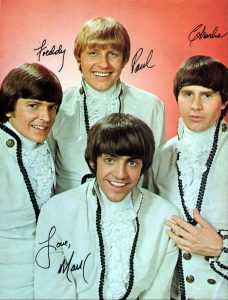 was working at the bakery. The two guys started talking about music, and the conversation took off in a big way when Revere found out that Lindsay was a singer. Guess who joined the band?
After Lindsay joined up, Revere's band got a record contract, and saw some moderate success in the Pacific Northwest. In the '60s, the band moved to LA and had an amazing string of hit records! Songs like "Kicks," "Hungry," and "Just Like Me" sold well in stores, and popped up often on radios around the country. During the British Invasion, though, the band had some stuff competition. Mark Lindsay was a good looking, charismatic front man with legions of female fans, and when the band made appearances of television, most notable on The Ed Sullivan Show and Dick Clark's "Where The Action Is," the big hits continued despite competing with superstars from across the pond.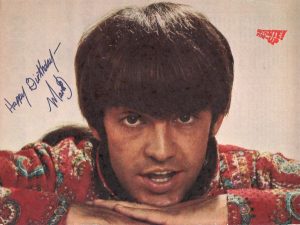 Years and personnel changes later, the group scored again with "Indian Reservation," a song about the plight of Native Americans in this country that soared all the way to #1. By then, the band had changed direction, being more heavily influenced by Lindsey, and was simply known as "The Raiders." They stopped wearing the faux-Revolutionary War garb their live performances had previously been known for, as well.
Paul Revere died in 2014, at the age of 76, after battling cancer. Lindsay has had a long solo career, and had big hit called "Arizona." He's still out there, doing shows at the age of 75. Over the years, he's done pretty well as a producer, as well as a vocalist.
This song, "Let Me," was actually their first gold record. Partly because of that success, the group toured Europe with The Beach Boys for a while. It's the song I woke up with in my head this morning, and it's one of my favorites from these guys. It will really get you going if you need a jumpstart.