Every Monday Urban Fringe Salon in Chapel Hill will be sharing a current hair trend or tip with WCHL listeners and Chapelboro visitors. Tune into WCHL Monday's during Music N More with Nicki Morse from 10 am – 3 pm to find out the latest style tips and trends! Follow Urban Fringe on Instagram & Snapchat @urbanfringe
Enter to win a gift card to Urban Fringe Salon!
TIP – MONDAY August 7, 2017
If you find yourself pulling your hair up every day it is time for a new style.  Try a bob, there are a variety of lengths in the bob family.  Your stylist can help you choose the one that is perfect for you.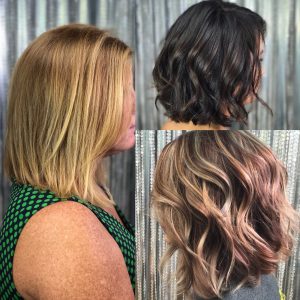 TIP – MONDAY July 31, 2017
Looking for a new style, but don't want to change your length.  You know what they say bangs are the new Botox.  From short micro fringe to longer cheek swept fringe.  There is a style that will work perfectly with your face shape.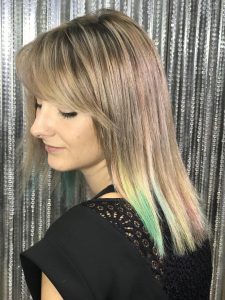 TIP – MONDAY July 24, 2017
Does your hair color get too warm or have a red hue in between appointments?  Taking your hair color a level deeper and using hidden highlights to give you the lightness you enjoy will help prevent you from seeing red.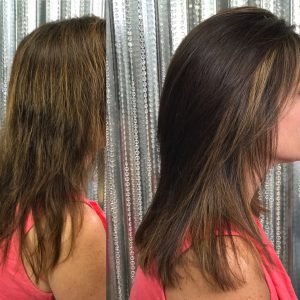 TIP – MONDAY July 3, 2017
Are split ends a problem for you? There are shampoos, conditioners and at home treatments that can help prevent them. We can help you choose a regime that will banish your split ends and give you the healthy hair you have dreamed about.
TIP – MONDAY June 26, 2017
Humidity can turn the most luscious of locks into something resembling Chewbacca's mane in a matter of minutes! Fight back by making sure your products have anti-humectants! We can recommend the products that are best for your hair type and texture.
TIP – MONDAY June 19, 2017
Summer sun can be hard on hair color. Let us create a custom color conditioning treatment for you to keep your locks refreshed and vibrant all summer long. Follow Urban Fringe Salon Chapel Hill
TIP – MONDAY May 22, 2017
Have you thought about trying a new color? Putting a few peek-a-boo pieces in the interior of your hair is a great way to try a new hue without it taking over your style. You can go bold and be subtle at the same time!
TIP – MONDAY May 15, 2017
Looking for more movement in your hair?  Ask your stylist to soften the ends using a razor.  It creates more movement and maintains length leaving a line that is less blunt and more modern.
TIP – MONDAY May 8, 2017
If you have been avoiding a haircut because you want your hair to grow you could be doing more harm than good!  Keeping your ends freshly trimmed helps them from splitting.  Using products designed to repair and prevent split ends is also a good idea for the long-term health of your hair.
MONDAY May 1, 2017
ENTER TO WIN A MAKEOVER FOR  YOUR MOM BELOW!
Moms are special and they deserve a little pampering don't you think? With Mother's Day just a couple of weeks away we want to give your mom or a mom in your life the chance to win a FREE makeover. Nominate all the mothers you know who deserve to win a makeover from Urban Fringe Salon in Chapel Hill. Be sure you let us know what makes them so special!
TIP – MONDAY April 24, 2017
Did you know that you can protect your hair color from fading in the sun?  Adding a clear gloss that has UVA and UBV absorbers will help block the suns rays.  It will also add shine and an intense dose of hydration.
TIP –  MONDAY April 17, 2017
As summer approaches we find ourselves dealing with the F word, frizz.  Not all products are created equal finding the one that works with your texture is important to help ease frustration.  You may also consider a formaldehyde-free treatment that banishes Frizz for up to three months!
TIP –  MONDAY April 10, 2017
If you have been thinking about coloring your hair, but are not sure if you are ready for the commitment, try a Demi permanent hair color.  It will enhance your natural color, add amazing shine and condition then gently fade away.
TIP –  MONDAY April 3, 2017
Blonde hair can warm up in the sun.  Use a blue or violet based shampoo to prevent your blonde from becoming brassy and keep your color cool during these warmer months.
TIP – MONDAY MARCH 27, 2017
Do you love your length, but desire a change? Layers are a great way to revive your style without compromising your length! They redistribute the weight so you can get more volume and movement.
TREND –  MONDAY MARCH 20, 2017
Want hair color that is high on impact, but low on maintenance?  We recommend a combination of baby lights and balayage.  The two techniques work together to give you a more organic end result utilizing your natural color so the grow-out is softer.
TREND – MONDAY MARCH 13, 2017
Rose gold is a hot new color for spring! Add a few rose gold highlights to give your hair color more dimension or if you're feeling brave add a lot.
TREND – MONDAY MARCH 6, 2017
The bob is back with a modern twist.  Interior layers keep the sides lean and sleek while keeping the back just slightly shorter than the front gives a nice geometric shape with a sophisticated feel.