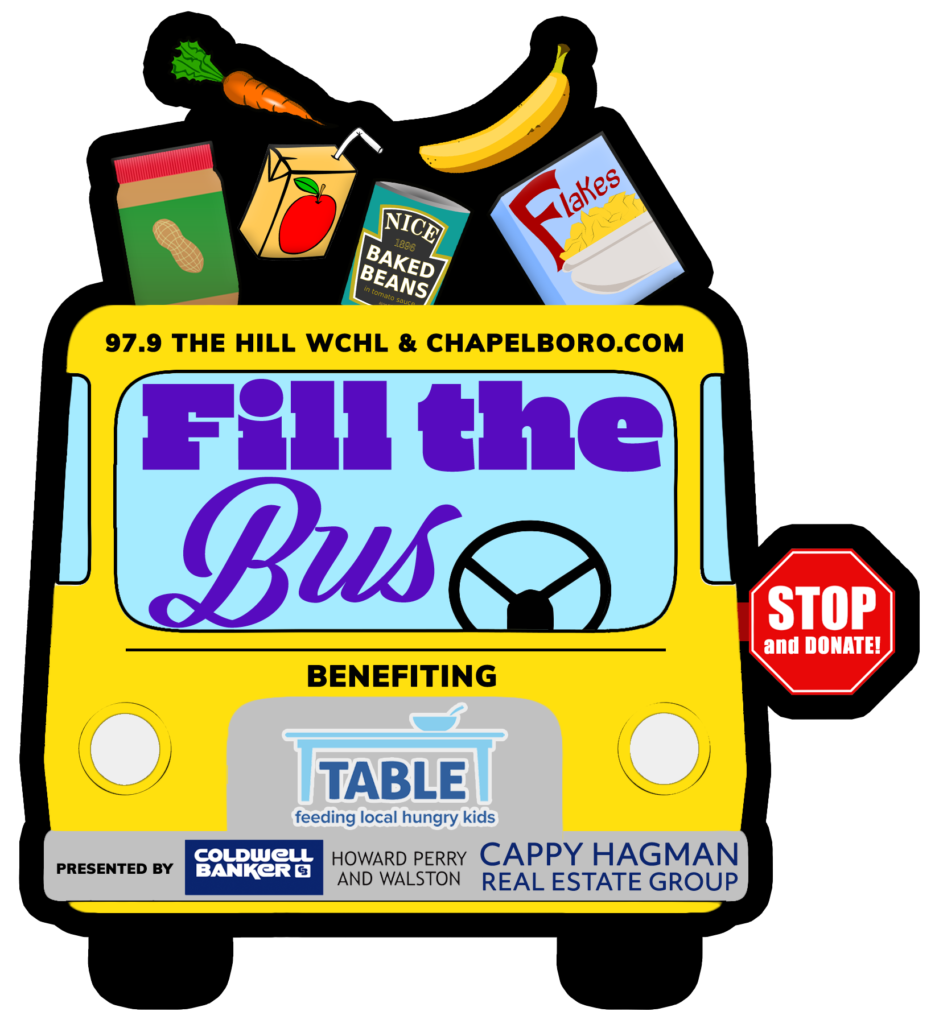 Local Children are In Need of Food Assistance Amidst the COVID-19 Outbreak
Local Chapel Hill-Carrboro City School students will not be in school again until at least May 15th.  Many CHCCS students rely on free and reduced-price school lunches as one or more of their meals each day.  That's why it's more important than ever to support local organizations like TABLE to ensure these students do not go a day without a healthy meal.
97.9 The Hill and Chapelboro.com are still collecting food donations for TABLE, with support from Cappy Hagman Real Estate Group and in partnership with local law enforcement.
At this time we are no longer accepting food donations at our office in University Place.  If you would like to contribute please take your donation directly to TABLE at 209 E Main Street in Carrboro – across from Rise. 
If you would prefer to support TABLE from the comfort and safety of your home please visit their website to make a financial contribution.
TABLE has been feeding local children at risk for hunger since 2008, and provide emergency food aid through hunger relief and nutrition education programs.  They are currently hand-delivering food to 611 children in our area every week.
Currently TABLE has a particular need for entrée-type food, which includes:
Cans of tuna or chicken
1 lb. bags of long grain or brown rice
1 lb. bags of beans (black, pinto, chickpeas, and lentils)
Low-sodium soup in kid-friendly flavors
Individual cups of macaroni & cheese
1 lb. boxes of whole grain spaghetti noodles
Cans of spaghetti sauce (15 oz. or smaller; no glass jars please!)
Other items needed include:
Whole grain breakfast/granola bars with protein
Instant oatmeal packets (left in their original box)
Graham, saltine, or whole-grain crackers
Individually packaged raisins, nuts, or trail mix
Shelf-stable, multi-pack milk boxes
Peanut butter (plastic 14 oz. or smaller jar)
Non-perishable fruit/applesauce cups or cans, in water not in syrup, no added sugar
Squeezable pouches (such as GoGo Squeez) of fruits, veggies, & shelf-stable yogurt
* TABLE aims to provide the healthiest food possible for kids. This includes foods that are minimally processed, low sodium, and low sugar. No oversize items or glass containers please!
Thank you in advance for anything you can contribute to help this amazing local nonprofit organization help local children.  Your donation of nonperishable items will leave TABLE with more resources to purchase supplemental fruits and vegetables and ensure they are as fresh as possible when they are distributed.
Thanks to Support from