The Chapel Hill Farmers' Market at University Place – 10th Anniversary Party
May 19, 2018 @ 8:00 am

-

12:00 pm

free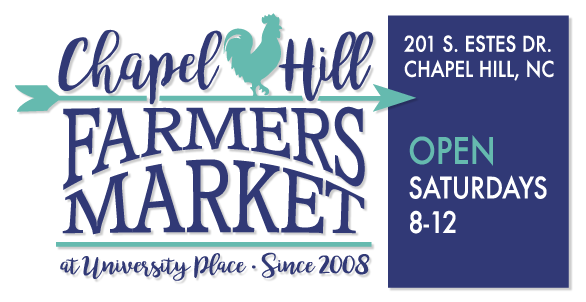 The Chapel Hill Farmers Market at University Place is celebrating its 10th Anniversary this Saturday and everyone is invited to the party. Open 8am-noon. Come enjoy your freshest seasonal favorites and birthday activities, at University Place. 
Market Hours are 8 am-12 noon every Saturday at University Place off of Estes Drive!
The Chapel Hill Farmers' Market was founded in 2008 by local farmers, for local farmers. We are a truly local market that supports farmers and artisans within a 60 mile radius of Chapel Hill to offer fresh, quality farm and artisanal products year round. The market is vendor run and operated so every dollar spent helps support our local economy.  We are dedicated to educating consumers about the nutritional, environmental, and economic value of buying local, sustainably-produced farm products. The Chapel Hill Farmers' Market brings our town and our producers "to the table" to create a sense of community and establish customer-vendor relationships so you can be sure about where your food comes from, and how it's produced.

What's Ripe & Ready…
Scroll down to see what your favorite vendors are bringing
Produce highlights: 
Arugula
, 
Basil, Chard, Cilantro, Collards, Kale, Lettuce, Microgreens, Parsley, Salad Mix, Spinach, Spring Onions, Sweet Potatoes, Tomatoes, Turnips and more. 
Meat & Eggs:
 Lamb, Goat Meat, Chicken, Grass fed Beef Cuts, Bulk Sausage, Pork, Bacon, Lard, Pate, Soup Bones, Ham Hocks, Dog Bones, Deli Meats, Chicken Eggs and more.
Fresh Seafood: 
Scroll Down to see what Local's Seafood is bringing!
Flowers and Plants:
 Cut flowers, Native perennials, Fruit shrubs, Potted flowers, Succulents, Ferns, Culinary and Medicinal Herbs and more
Specialty: 
Aromatherapy, Fresh Bread, Baked Goods, Beer, Body Care, Cheese, Chocolate, Coffee, Coffee Beans, Cookies, Greeting Cards, Fresh Pasta, Pierogis, Pizza dough, Pastries, Pesto, Sprouted Nuts, Soaps and more!
Who's At Market This Week:
Carrboro Coffee Roasters
Our small batch artisan roasting facility focuses skill and craft in tailoring each coffee profile. By letting the coffee dictate the roast we avoid a standard roasting style or degree. Every coffee is different and must be respected for its unique characteristics. This is done out of respect for the farmer and a responsibility to the customer.
Chocolatay Confections
At Chocolatay the only thing we take seriously is our ingredients. We use a variety of single origin and blended certified fair trade chocolate. Our raw honey is sourced from many local farms and beekeepers. Our cream, sea salt and eggs are local. Our coconut and raw cane sugar are certified organic. We also source seasonal ingredients from local farmers in Chapel Hill and Durham.
Feather Village Farm
For sale this week:  Nearly 40 varieties of plants including culinary herbs, native perennials, fruit shrubs and trees, greeting cards from KD Graphic.
Laurent Lavender
Get some Easter Gifts for  the special person(s) in your life!
Indulge yourself and others with great Lavender Gifts to lift the spirit and wellness. Come get soothing and healing Lavender Gifts from our Farm like Sachets, Vitamin E Cream, Lotion, Essential Oil, Pillow Spray, Body Mist, Candles and the wonderful Aroma Therapy Eye pillows and so much more. We ship also, so place your orders early! Call if you cannot come 919 690 8118. You may also place your orders on our web site: Laurentlavender.com Thanks!
Lo & Behold
Lo & Behold will be at market with our entire line of 100% natural and handmade body care. Our line includes the following products in a variety of scents: lip balms, cuticle cream, hand salves, body butters, hair & body oils, beard oil, shaving oil, aftershave, body scrubs, bath soaks, bug spray, facial toner, face serum, cleansing grains and face masks.
Loaf
Loaf will be at market with rustic brick oven breads, pastries and more.
Melina's Fresh Pasta
We will be at market this Saturday with a variety of fresh pasta! We will have everyone's favorite ravioli, including new seasonal flavors like Pea & Mint (perfect for Easter)! Or pick up one of our take-and-bake lasagnas for an easy and delicious meal.
(919) 403-3663
info@melinaspasta.com
www.melinaspasta.com
Mystery Brewing Company
Since early 2012, Mystery Brewing Company's mission has been to create a cornucopia of high-quality, small-batch, rustic ales for the discriminating consumer, and to test the boundaries of creativity and style. In short, to make outstanding beer. Each week, Mystery will be selling their seasonal-only beers by the bottle or by the case along with providing samples for the inquiring palate.
Prodigal Farm
We hope you'll brave the weather and come out to see us!  Have you tried our luscious, gooey camembert style, Sweet Lolly?  And our delicious Spring Fever tastes just right in a salad with spring greens and berries with a lemon vinaigrette, or on a hunk of bread with marmalade!  We'll have those, as well as other cheeses you know and love:  Dirty Girl,  Marinated Feta,  and Saxapahaw Blues, and that delicious fresh spreadable cow cheese (as well as herb, and chipotle-garlic, flavored versions of it).  We use that stuff on everything!  Not sure which cheese to choose?  We're here to help!  We'll also have frozen pizza dough (made using organic flour) and A SALE ON our kale-arugula pesto, which makes for some easy weeknight meals. And we've stocked up on delicious, pasture-raised Animal Welfare Approved goat meat, including a sale on broken packs!  A rainy day is the perfect time to take home some of our soup bones to make rich, nutritious bone broth to use in your cooking.  
Split Acre Farm
We will be at market on Saturday with tulips, kale, sweet potatoes, and salad greens. 
Sweets by Shayda
Ever since she was a young child, Shayda had dreams of becoming a pastry chef. In 2013, she moved to Paris to study at the world renowned Le Cordon Bleu. Upon completion of an extensive pastry program and an internship in Paris, Shayda returned to her hometown of Raleigh, North Carolina and started Sweets by Shayda as a means to bring a taste of France to the triangle using fresh, local, and seasonal ingredients. Orders can be arranged for pick-up or local delivery.
T5 Farms
BACON is back! Along with hot or mild breakfast sausage.  The Chickens have declared it Spring.  Come and get all the eggs you could possibly want! Lots of sweet baby hakurei turnips. Load Up on your favorite variety of SWEET POTATOES. Market favorite orange flesh Beauregard and white flesh O'Henry, purple skin, white flesh Japanese.  Lots PORK (including Ground Pork, sausages, roasts And CHOPS!)  All BEEF cuts!   Limited Chicken cuts and s few whole birds.
Please text special meat orders to  
336-264-0981
Randy T
T5-Farms
Wild Dog Farm
Mimi and Julia will be back at market this Saturday with microgreens and garlic greens.
Wild Dog Farm farms sustainably and all of our fruits and vegetables are grown without synthetic herbicides or pesticides. 
Related Events
Submit an Event