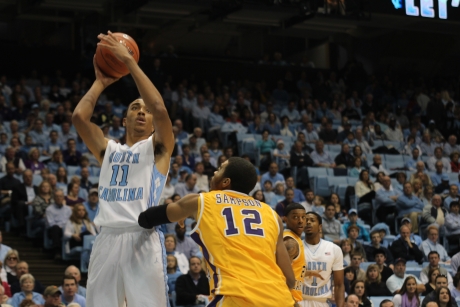 A few of Brice Johnson's stat lines this season:
UNLV: 6-8 FG, 12 points, 4 rebounds, 3 steals, 15 minutes (!)
McNeese St: 5-10 FG, 10 points, 7 rebounds, steal, block, 14 minutes (!)
UAB: 5-7 FG, 11 points, 6 rebounds, 2 blocks, 14 minutes (what if he played twice as much!)
Brice Johnson brings skills at the center position that no one else on the North Carolina basketball team has. He's the best offensive player on the interior for the Tar Heels, and yes that includes James McAdoo. Take a look at Brice Johnson's stats adjusted to 40 minutes a game: 26.0 points 13.7 rebounds 0.9 assists 1.4 steals 2.9 blocks. And this isn't because Brice is playing only in grabage time.
While I'm not advocating Brice playing 40 minutes a game, the numbers clearly show that he's far more productive than the other options at center. 30-35 minutes depending on the game is the right range, with the team going small when he's not in the lineup.
Numbers aside, it's just obvious that the team is better with him in there. Johnson, much like Hairston, brings an intensity and aggression level that isn't there when he's on the bench. He's always in attack mode, using his length and athleticism to make a huge impact on the game. He's shown a reliable turnaround jumper, nice touch around the rim, and the ability to catch and throw down momentum-building alley oops. He needs to be allowed to play his game and let it evolve, but instead he's getting low, sporadic minutes and kept on the bench way too much.
While he still has a lot to learn about help defense, his effort is never a question. He crashes the boards hard, challenges shots at the rim, and holds his position with his hands straight up. While Brice does have a slight frame, he adapts to it by sneakily moving around his man, changing defensive guarding positions to keep him off balance. This is extremely effective when you're at a weight disadvantage, and Johnson clearly has a nice feel for how to execute this tactic.
Brice Johnson needs to see most of the minutes at the 5 spot for the Tar Heels, and whenever he's out I would advocate going small with McAdoo at center and P.J. Hairston or J.P. Tokoto at the power forward spot. The other options just aren't getting it done, and the Tar Heels can't afford to drop anymore winnable games.
You can follow Josh on Twitter @HoopVisions