As we approach yet another highly traveled holiday weekend, it's time to start thinking about what to take to the beach or the lake or the neighbor's backyard barbeque this weekend. The 4th of July weekend brings together families and friends from near and far to celebrate all things red, white and blue. White crystal sand beaches and Carolina blue skies; red sails on the coastal blue horizon; Mom's blueberry buckle or cherry pie with homemade vanilla ice cream. And of course the American flag, our most iconic red, white and blue symbol. Everyone has their favorite 4th of July images and memories. My personal childhood favorite is an indelible one— perched high on a giant red boulder while watching a night sky explode with red, white and blue sparkling fireworks over the Colorado National Monument. That may be where my obsession for chasing sunsets and fireworks began!  
So, what to make and take and share with your favorite peeps this week? I've got a couple festive and tasty twists that have already proven to be crowd pleasers. First, let me introduce you to Blueberry Salsa. Healthy, festive, flavorful, colorful and just the right kick! And it's easy to make in about 15 minutes. Plus blueberries are currently plentiful.
Preparation:
Coarsely chop 2 cups fresh blueberries. Stir together with ½ to ¾ cups whole small blueberries, ¼ cup fresh lemon juice, 3 tablespoons chopped fresh cilantro, 2 seeded and minced jalapeno peppers, 1/3 cup diced red bell pepper and ½ teaspoon kosher salt in a large bowl. Cover and chill until ready to serve. The recipe makes about 3 cups. (Adding ¼ cup chopped onion is optional.)
Presentation:
Line a basket or tray with a red bandana. Pour the salsa into a medium to small glass serving bowl to show off the red and blue color and make it the centerpiece of your tray or basket. Add your favorite red, white and blue corn chips around the bowl for dipping. Tostitos brand white corn Scoops chips work really well for picking up the blueberries.
Now for the twist that I created the second time I made Blueberry Salsa. You ready for a refreshing cocktail? Try a Skinny Spicy Blueberry Margarita. But make sure to save the juice from the blueberry salsa… that's the secret ingredient! Start with a bottle of Skinnygirl Margarita (branded by healthy chef and reality TV star Bethenny Frankel) from your local ABC store. Pour the Skinnygirl Margarita mixture over ice in a rocks or margarita glass. Add a couple teaspoons of juice from the blueberry salsa and stir. Garnish with a few blueberries and a small slice of red pepper and you've got your red, white and blue cocktail with a kick!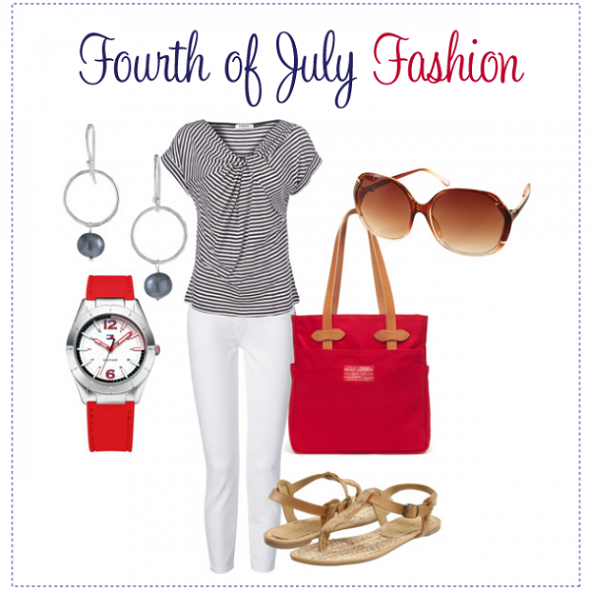 What to wear to your 4th soiree? Anything cool, comfortable and red, white and blue, of course! Think light cotton, linen or terry cloth. Try a nautical motif with a red or navy striped knit dress. I'm pulling out the dark blue chambray roll tab shorts with front pockets and a matching waist tie belt. I'll pair it with a strawberry red ruffled tank or halter top, a white rope belt and wedge sandals in red, white or blue. Other ideas are skinny white jeans if it cools off or a fun summer sundress if you're in the sweltering heat. Add a festive scarf or ribbon around your packable straw hat for a pop of holiday color. Celebrate your unique, personal style while celebrating the good 'ol USA!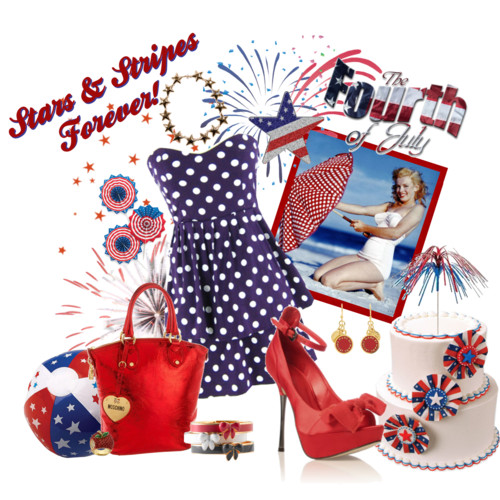 Now that you've started your celebration in style, sit back, relax and enjoy the fireworks show at Chapel Hill's Kenan Stadium or wherever you go! (By the way, Chapel Hill was recently ranked as one of the top ten July Fourth Celebrations in the country!)
These are my twists on a red, white and blue holiday weekend. Share your 4th of July traditions below.