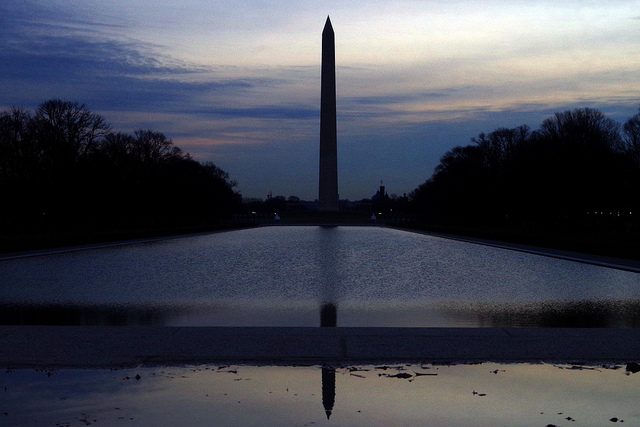 Washington, DC
An estimated 900,000 people showed up to the area surrounding the National Mall, Capitol Building and Pennsylvania Avenue to watch President Barack Obama take his public oath of office on Monday.
Per Constitutional rules requiring the new President to be sworn in on January 20th, Obama took his official oath on Sunday in the Oval Office. Several key Congressional players were also invited to partake in the ceremony. Sources have indicated that Mr. Obama took the opportunity to reset the playing field for his new term by "starting fresh."
What's on the docket for Obama's second term? What should North Carolinians be on the watch for the next four years?
1. Gun Control
Following the tragic events in Aurora, Colorado & Newtown, the calling for greater gun control measures has escalated across the country. Unfortunately, like most things in politics, there is far from a consensus. Following rumors of greater gun control measures, the NRA saw a huge spike in membership, averaging 8,000 new members a day since the Newtown tragedy.
While gun control is a microcosm of the political division in America, there does seem to be a consensus that America's problems in this regard are bigger than guns and point to a larger cultural issue. Obama's recent proposals relating to the topic seem to want to address the broader crisis, including studying the role of the media in violence.
North Carolina will continue to be an indicator of the nation's thought process moving forward. As a traditionally Southern and diverse swing state, the blend of ideology in North Carolina will result in a struggle for control in the debate, and will likely serve as an indicator of the overall sentiment of the nation. It is unlikely that the Republican controlled State legislature will make significant changes like New York enacted last week, and thus, any anti-gun advocates will have to look to Washington for changes in NC.
Lastly, it will be worth eyeing how Obama's administration navigates the issues it will be sure to face with the Supreme Court in passing any gun legislation as it pertains to the 2nd Amendment. Obama and the nine justices have not seen completely eye-to-eye since Obama was first inaugurated in 2009.
2. Addressing 'Failure' From the First Term
Americans have been highly critical of Obama's first term. Policy Mic released an article on Monday discussing the outlook to address Obama's failures in his first term. While Obamacare passed under duress, there were more misses than 'makes' and the administration has acknowledged its shortcomings. "Change" and "Forward" have been the go-to sayings for Obama and he will look to leave a more significant mark in term number two.
During his second inaugural speech, he noted that addressing climate change would be a priority, acknowledging that "the path towards sustainable energy sources will be long and sometimes difficult." And in a historical moment, Obama advocated for equal rights for "our gay brothers and sisters," which was one of, if not the first time "gay" has been used by a President in a public address. Perhaps just as significant was the stage set for same-sex rights. Obama placed his comments regarding gay marriage directly adjacent to his comments on women's rights and his equal pay for equal work initiatives. Analysts suggested that it was a calculated move by the Obama camp to put the two on level footing, demonstrating the importance Obama places on gay rights. These two issues look to be two that Obama will add to the leftovers from his first term agenda.
North Carolina will be in the cross-hairs of both topics in addition to many others. RTP's prowess in the sciences field could see increased government dollars for research and development towards alternative energy. And the passing of Amendment One will stand in stark contrast to Obama's desire to level the playing field for all genders, races and orientations.
3. The American Debt Ceiling
Last but certainly not least is the looming debt ceiling and exponentially growing national debt. Organizations like The Can Kicks Back are organizing to raise awareness about the consequences of the growing debt issue. The U.S. government spends almost 7 million dollars per minute per CBS news, a number that far surpasses any historical record high.
As leaders in Washington suggest temporarily raising the debt ceiling so as to avoid short-term economic catastrophe, a longer term plan must be developed that is generationally balanced to cut the deficit and, in turn, the debt. In the coming decades, interest payments on the debt will grow to over 50% of the federal budget, with debt exceeding 100% of annual GDP without significant action.
The government has kicked the can down the road for far too long and has shown little regard for controlling spending. With the temporary fiscal cliff 'fix' in December of 2012 to raise revenues, it will now be time to slice spending.
Long-term, this is an issue of immense importance and must be dealt with. The success or failure of Obama as a President from a historical perspective could be dependent on how he deals with this issue.
With Inauguration Weekend winding to a close, the 113th Congress will be sworn in and the approaching debt ceiling will come back into focus. Obama will have to hit the ground running to ensure the economic recovery remains on track and address his broad agenda.
Ryan Watts is a Chapel Hill native and recent UNC graduate in Political Science and Business Administration. Now living in Washington DC, he works as a Consultant. You can find him on Twitter @RyanVWatts or at his blog.