WKNC Presents Double Barrel Benefit 11
February 7, 2014 @ 8:00 pm

-

10:00 pm

$12 - $14
Event Navigation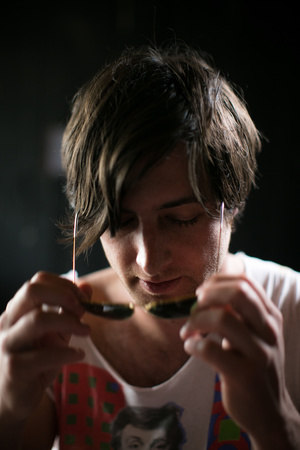 The Love Language
Friends and fans of The Love Language songwriter and frontman Stuart McLamb have learned to expect a lot, but rarely in a timely manner. Completing a triumvirate of spiritual transmissions spent lost (2009's The Love Language) and found (2010's Libraries), 2013's Ruby Red exorcises the transient brilliance fostered by McLamb within the sheetrock walls of the album's namesake artist space.Featuring over twenty musicians and straddling several time zones, The Love Language's lone puppeteer borrowed heavier equipment, and held on to it longer. Initiated in a windowless unit at the fabled Ruby Red, several failed attempts and false starts at a songwriting spree landed McLamb and his engineer/case worker/boxing coach BJ Burton in Black Mountain, North Carolina, consuming every square inch of a carpeted bungalow located a few acres too close to their skittish neighbors. Soon after, Burton's relocation to Minneapolis effectively thrust McLamb from their shared nest, helping Ruby Red discover its inherent propensity for flight.
Ruby Red produces new standards for the Carolina pop songbook, finding The Love Language as an extroverted community art project made by responsible citizens of a loosely packed scene who know that McLamb will match whatever they contribute. The heartbreak is over. Now we're getting somewhere.
Hammer No More the Fingers
Hammer No More The Fingers catapulted into the local music scene in 2007 with the release of their self-titled EP release, one that received considerable airplay on WKNC and a heavy amount of recognition. They followed their EP with Looking For Bruce, a powerful sophomore album that garnered high critical praise, both at home and abroad. They were labeled by Stereogum as the "Band to Watch" in 2008, and by Spin as one of 25 "Must See Artists" at the 2009 CMJ festival.Hammer No More The Fingers have been a staple of the tremendous local music scene, delivering consistently solid performances and playing alongside the best in established and up-and-coming artists. Their hooks and harmonies are irresistible, and their live performance will fuel you in ways that only their exuberant college rock can. It's a feeling that is few and far between these days, but one that is not all lost.
Friday, February 7th at Cat's Cradle, Hammer No More The Fingers will take the stage and give Double Barrel Benefit 11 a rock performance we all yearn for, one you will not want to miss.
-Zach Dorsett, WKNC Promotions Director
Tow3ers
Tow3rs began several years ago when musician Derek Torres decided to cover a Lonnie Walker track and upload the recording online. That cover dovetailed into a cassette offer from Lonnie Walker's label, the NC-based Diggup Tapes, and eventually into a full length, the sprightly, experimental If All We Have Is Time, which mixed equal parts generational ennui and guitar-pop songcraft.Since then, the band's unique approach to indie pop has shapeshifted through several incarnations as the band's presence has increased in the Triangle, with the Tow3rs moniker currently serving as a dance-inflected solo project for Torres himself. In recent months, the project has offered the odd single on Bandcamp, as well as the occasional split, including a recent Velvet Underground covers release for Digguptapes with fellow Triangle band Lilac Shadows, on which the band provided their inspired rendition of "Rock and Roll.
As Torres readies a new LP, the newer material reveals an evolving palette of sounds and influences, but with the same strong emphasis on pop songwriting. WKNC is very excited to have Derek perform with us!
-David Smith, WKNC Music Director
Ghostt Bllonde
There's something sinister in undefined jubilance. The very thing that may make you most elated in spirit may be the very thing that corrupts your mind. Like living on a cloud, at ease in the second but all the while knowing at any instant your support might just falter; sending you plummeting to a bitter reality. Ghostt Bllonde is the still frame of this moment: molding the angst of a love-torn-adolescent in a confined bedroom into a parade of thrashing crooners. While Everley harmonies and Connie Stevens swoons may cradle you to high spirits, snarling guitars through jangling broken chords will remind you to watch your step. Stemming from PBR suds and nervous hiccups Ghostt Bllonde's lovably insouciant indie rock is a 50′s rumble of trash-can-pop.
Related Events
Submit an Event