Robert Ellis w/ T. Hardy Morris
February 25, 2014 @ 7:00 pm

-

9:00 pm

$10
Event Navigation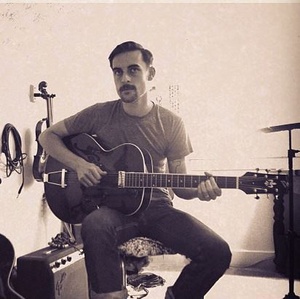 Robert Ellis w/ T. Hardy Morris
Tue, February 25, 2014
Doors: 7:00 pm / Show: 8:00 pm
Cat's Cradle – Back Room
Carrboro, NC
$10.00
Robert Ellis
"I want this record to be more about the Paul Simons and the Randy Newmans and the other half of my upbringing,
which is very much rooted in pop." – Ellis recently told Rolling Stone
Robert Ellis is the kind of songwriter who only comes along once in a great while. With his first two albums, a promise was made. With his new record, The Lights from the Chemical Plant, that promise has been delivered and fully realized. The music, like the artist, refuses to accept the confines of a box, and burns white-hot from the inside out. But what seems even more striking about this record, this musician, even at a first glance, is that feeling of unyielding authenticity.
With every remarkable cut, with every twist and turn, Robert's life and his experience, shine through. His days growing up in a small industrial town in Texas, his move to Houston, and now as a 24-year-old man, when not on the road performing around the world, living with his wife in Nashville.
The Lights from the Chemical Plant, produced with great care and precision by Jacquire King (Tom Waits, Kings of Leon, Norah Jones), and recorded at Eric Masse's Casino studio in East Nashville for New West Records, is an album that has a way of grabbing you by the hand and pulling you in so that it can play with your soul. Alive with memories and innovation, you become absorbed in the world Robert paints with his smoky lyrics, his hypnotic voice, and his masterful work on the guitar. But then something happens. Something new. Something special. And it begins with the very song for which the album is named, "Chemical Plant." You realize that Robert's building layer upon layer of different sounds from different places and different times. A synthesis of sounds and textures that pick you up and pull you in even deeper.
R&B, bossa nova, fusion, free jazz – from the rousing beat of "Good Intentions" to the floor stomping bluegrass anthem "Sing Along," you've bought your ticket and you're in for the ride. And so it goes, the floodgates standing wide open. The quiet, unexpected feel of a jazz guitar in perfect union with a steel guitar in the ballad, "Steady as the Rising Sun." And so it goes. The soulful wobble of a saxophone in "Bottle of Wine," and the dreamy pedal steel that draws you into "TV Song." These are songs about love gained, about love lost, about growing up in a place where nobody stands too tall for fear of being knocked down ("Sing Along"). These are songs about lives broken, lives healed, and moving on.
As if that weren't enough, Robert gives us his interpretation of Paul Simon's classic, "Still Crazy After All These Years," which is pure elegance, cut against the song "Only Lies" with its quiet pulse, its dusky blue lyrics, and the story of a man trying to help a friend who refuses to believe that her husband is cheating on her…
Only lies can comfort you,
Only lies will see you through.
Just because a thing's convenient,
That doesn't make it true.
Only lies can comfort you.
Ellis' growth as a man and musician is clear on The Lights From The Chemical Plant. And while some may call it a musical departure from his past, The Houston Chronicle best explains: "Ellis doesn't place limitations on his music. Any perceived departure is just part of an ongoing creative journey."
– Robert Ellis, not the musician, but the author of the Los Angeles Times bestseller, City of Fire.
T. Hardy Morris
"A lot of it is memory or just feeling," T. Hardy Morris says of his extraordinary debut solo
album, Audition Tapes. "But there was also a lot of happenstance and circumstance."
Stark and startling in its evocative, atmospheric power, Audition Tapes sees Morris – best known
as frontman for Southern psych-rockers Dead Confederate as well as a member of the collaborative
supergroup Diamond Rugs – unleashing something quite unique, a kind of outlaw country grunge,
haunting and forlorn and possibly even dangerous. Morris' fourth release in just a single year, the
self-described "sit down record" reveals new facets to the Athens, Georgia-based singer/
songwriter's quickly growing canon. His world-weary vocals rich with nostalgia and sympathy,
songs like "Disaster Proof" and the stark album closer, "Own Worst Enemy," find Morris
chronicling a rich cast of characters devastated by drink, drugs, and depression, both personal and
economic.
"It's largely about the hometown me and the other guys in Dead Confederate grew up in," he says,
"and the way a lot of the friends we had down there slipped away to their vices. Friends that
dabbled and then couldn't quit dabbling."
The idea of a solo album first occurred to Morris when the inveterately prolific tunesmith found
himself with a sheaf of material – including fully fleshed songs and ramshackle home demos – that
didn't quite jibe with Dead Confederate's imposing psychedelic riffola.
"I still liked 'em," he says. "I'd written 'em, created 'em, so I figured it would be silly not to record
'em."
Morris decided to make the record at producers Adam Landry and Justin Collins' Playground
Sound Studios in Nashville – the same site where he'd cut the acclaimed Diamond Rugs album just
a year earlier.
"I thought, maybe this would be the place to tackle some of that solo stuff," Morris says.  "It's not
something I can put a finger on, but when I hear stuff back there it just feels right."
Morris traveled to Playground Sound for a series of sessions spanning much of 2012, in between
little things like tours with Diamond Rugs and the recording of both a "full-on" new EP and album
with Dead Confederate. While the transitions might've proved jarring for another artist, Morris
swears to have had no trouble switching gears between projects, rather viewing each of them –
rightly – as individual cogs in the overall machine.
"I've always been a little ADD," he says. "I guess that's one of the benefits."
Where Dead Confederate demands epic rock soundscapes, Morris' single goal for Audition Tapes
was to keep things as grounded and spontaneous as humanly possible. With no official band to
speak of, Landry handled bass duties from the control room, while a number of friends "dropped
by" to lend a hand, including Delta Spirit's Matt Vasquez, Black Lips/Diamond Rugs guitarist Ian
Saint Pé, steel guitarist Matt "Pistol" Stossel, keyboardist Thayer Serrano, and drummer Julian
Dorio (The Whigs).
Together, the players limned out a distinct aural environment, as intimate as if it were home
recorded at Morris' dinette table but also raucous, richly textured and unerringly inventive. The
languid "Quit Diggin'" and the album's visceral centerpiece, "Share The Needle," mark the musical
crossroads where timeless country meets the New Southern Rock.
"I love old country music, down to the ground," Morris avows. "I've also always loved when you
find things like pedal steel in music where you don't think you should, where it doesn't turn it into
a country song but just works. So I really wanted to have that on the record, it gives it that somber
quality I was looking for."
The evocative sonics underscore the simple power of Morris' intensely intimate songwriting. A
lyrical hybrid of fiction, memoir, and journalism, his songs crackle and hum with both humility and
reckless energy, none more so than the masterful title track in which Morris revisits his preteen
best friend in order to touch something tucked away deep within his current self.
"There wasn't a whole lot to do back then other than getting into trouble and trying not to get
caught," Morris says. "We were just living in abandon. We didn't think before we did anything,
we just did it. I want to be more like that kid."
That carefree spirit already defines Morris' constant state of artistic forward motion. Currently his
plans include recording still another Dead Confederate EP, as well as a lengthy tour supporting
their new full-length, In The Marrow. As if that weren't enough for one artistic annum, he recently
united T. Hardy Morris & The Outfit, a small combo of Athens-based friends and fellow
musicians – including the aforementioned Stossel, Serrano, and drummer Jim Wilson. Altogether
remarkable though it may be, Audition Tapes is also but a single chapter in T. Hardy Morris'
marathon body of work.
"It felt good to get this record out of the way," Morris says, "so I could get started working on the
next one. If I hadn't recorded them, those songs would be rolling around in my head, over and
over. But now they're done, they're gone, and there's the next batch of songs rolling around in
there."
March 2013
Related Events
Submit an Event