Juneteenth: A Day Of Remembrance From Freedom To Empowerment
June 21, 2014 @ 10:00 am

-

3:00 pm

FREE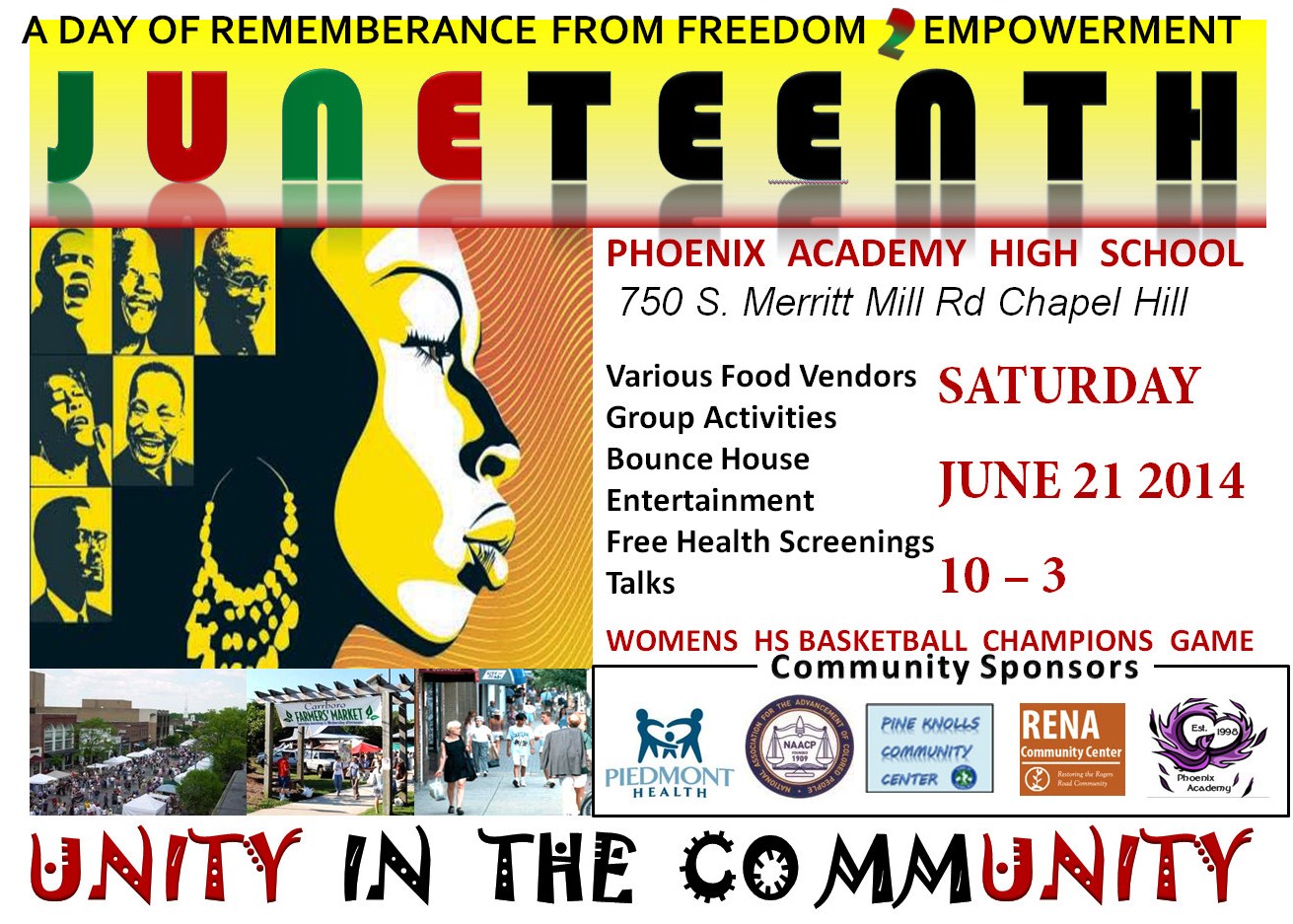 Members of the public are invited to "Juneteenth, a Day of Remembrance from Freedom to Empowerment," a free event that will feature food vendors, health screenings, games, voter registration, health insurance enrollment, entertainment and remarks from government, civic and religious leaders.
The event will take place Saturday, June 21, 2014, from 10 a.m. to 3 p.m. at Phoenix Academy High School, 750 S. Merritt Mill Road in Chapel Hill, N.C. Community sponsors for the event include Piedmont Health Services, Inc, the Pine Knolls Community Center, the Chapel Hill-Carrboro NAACP, the RENA Community Center and Phoenix Academy.
A schedule for the day's events is below. For more information or to arrange an interview, contact Gloria Brown, 919-933-8494. Entertainment will include a Chapel Hill High School Basketball Champions Expo, the Sacrificial Poets, the Bouncing Bulldogs, the Jammers Cheerleaders, and the First Baptist Praise Dancers. Free health screenings along with voter registration will be available.
Juneteenth is a celebration that originated in Galveston, Texas, when Union soldiers arrived on June 19th, 1865 to enforce the Emancipation Proclamation, which freed the slaves. Juneteenth, a shortening of "June 19th," is the oldest known holiday that celebrates the end of slavery in the United States. It is a partial or full holiday in various states across the nation and is even celebrated in some foreign countries such as Ghana and Japan.
The June 21st celebration in Chapel Hill will include remarks from John Williams, principal of the Phoenix Academy; Rev. Rodney Lavon Coleman, Senior Pastor of the First Baptist Church; Rev. Robert Campbell of the Chapel-Hill Carrboro NAACP; State Rep. Graig Meyer and former State Sen. Ellie Kinnaird.
The schedule of events follows.
Official Juneteenth Celebration
Opening………………………………………………………………………….. Noon ~. 1: 30pm
Welcome………………………………………………………………………….John Williams, Principal, Phoenix Academy; Representative Graig Meyer, NC House District 50
Prayer for Expanded Freedoms………………………………………….Rev. Richard Edens
Statement of Purpose………………………………………………………..Rev. Robert Campbell
Spiritual Insights ……………………………………………..Rev. Dr. Rodney Lavon Coleman, Senior Pastor, First Baptist Church
Healthcare is a Right………………………………………………………….Dr. John Hatch
"The Work Goes On, The Cause Endures, The Hope Still Lives, and The Dream Will Never Die"……………………………………………..Rev. Curtis Gatewood
Importance of Voter Registration and Getting To the Polls……Former NC Senator Ellie Kinnaird
Affordable Housing—Make it a Reality in Orange County, NC..Michelle Laws, NAACP
Fracking and Health of Our Communities………………………………John Wagner, GROUP
Related Events
Submit an Event