Joyce Johnson discusses The Voice Is All: The Lonely Victory of Jack Kerouac and Minor Characters: A Beat Memoir
March 21, 2014 @ 7:00 pm

-

8:00 pm

Free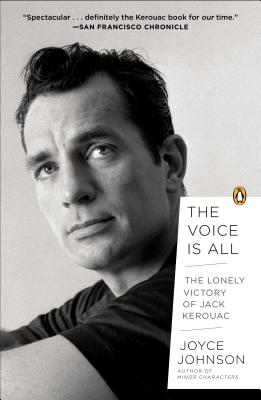 About The Voice Is All: Joyce Johnson brilliantly peels away layers of the Kerouac legend in this compelling new book. Tracking Kerouac's development from his boyhood through his fateful encounters with famous beats to his periods of solitude and the phenomenal breakthroughs of 1951 that resulted in On the Road followed by Visions of Cody, Johnson shows how his French Canadian background drove him to forge a voice that could contain his dualities and informed his unique outsider's vision of America.
About Minor Characters: Jack Kerouac. Allen Ginsberg. William S. Burroughs. LeRoi Jones. Theirs are the names primarily associated with the Beat Generation. But what about Joyce Johnson (nee Glassman), Edie Parker, Elise Cowen, Diane Di Prima, and dozens of others? These female friends and lovers of the famous iconoclasts are now beginning to be recognized for their own roles in forging the Beat movement and for their daring attempts to live as freely as did the men in their circle a decade before Women's Liberation. Twenty-one-year-old Joyce Johnson, an aspiring novelist and a secretary at a New York literary agency, fell in love with Jack Kerouac on a blind date arranged by Allen Ginsberg nine months before the publication of On the Road made Kerouac an instant celebrity. While Kerouac traveled to Tangiers, San Francisco, and Mexico City, Johnson roamed the streets of the East Village, where she found herself in the midst of the cultural revolution the Beats had created. Minor Characters portrays the turbulent years of her relationship with Kerouac with extraordinary wit and love and a cool, critical eye, introducing the reader to a lesser known but purely original American voice: her own.
Joyce Johnson is the author of three novels, including The Night Café. Her other books include Minor Characters, which was the winner of the National Book Critics Circle Award, and Door Wide Open: A Beat Love Affair in Letters, 1957–1958.
Related Events
Submit an Event