Johnathan Wilson with The blank tapes
February 18, 2014 @ 7:30 pm

-

10:30 pm

$12 - $15
Event Navigation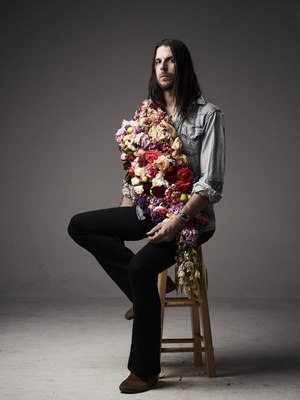 Tue, February 18, 2014
Doors: 7:30 pm / Show: 8:30 pm
Cat's Cradle
Carrboro, NC
$12.00 – $15.00
Jonathan Wilson
Fanfare, the second full-length from acclaimed artist and producer Jonathan Wilson, was released in October 2013 via Downtown Records.
With 2011's critically-lauded debut, Gentle Spirit, audiences worldwide were introduced to the prodigious talents of singer, songwriter, record producer and unrivaled guitar hero Jonathan Wilson. Gentle Spirit was celebrated for its authentic exploration and modern updating of the "Laurel Canyon sound".
Wilson's follow-up, Fanfare, was recorded over a 9-month period at his Fivestar Studios in Los Angeles and features contributions from Graham Nash, David Crosby, Jackson Browne, Josh Tillman (aka Father John Misty), Wilco's Patrick Sansone, Dawes' Taylor Goldsmith and Mike Campbell and Benmont Tench from Tom Petty and The Heartbreakers. The album is an ambitious, epically grandiose rock production that has conjured notions of Dennis Wilson's Pacific Ocean Blue amongst more than one music journalist.
"I was going for this sort of 'widescreen' sound, a blown out vista. I wanted strings, horns, bells, vibes, voices, solos, improvisation and a full orchestra on some of the tunes," says Wilson. "There were a few weeks of sessions with the band tracking live, as well as many weeks with just myself and engineer Bryce Gonzales. There were also many weeks at a time of just me working alone, as I did with Gentle Spirit. I've always worked alone in some capacity since I first started recording, it's a very important part of the process for me."
Prior to beginning work on Fanfare, Wilson spent the prior 18 months touring the world with his band to support his debut album, which included invitations to tour with legendary superstars such as Neil Young and Crazy Horse and Tom Petty and The Heartbreakers, and notable contemporaries including Wilco and Tame Impala.
Born and raised in North Carolina and now based in the Echo Park neighborhood of Los Angeles, Jonathan Wilson moved to Los Angeles in 2005 and is credited with reviving the neighborhood's once-legendary music scene. As a sought-after producer, Wilson's recent work includes albums by Father John Misty and Dawes.
The blank tapes
THE BLANK TAPES is the moniker of Los Angeles & San Francisco based musician & artist, Matt Adams, who has produced over 10 albums of 1960's psychedelic-surf-pop-folk-rock on an old 8 track cassette tape recorder in various garages, basements, sheds & bedrooms across the California Coast. Matt is also the artist behind his band's posters & album covers, and along with his band mates, Pearl, DA, & Will, they've toured throughout America, Brazil, Europe, & Japan. They just released a 7″ with 20-Sided Records and a few new cassette tapes with Burger Records, Curly Cassettes & Dome of Doom. They also have a new studio album called "VACATION" coming out on Antenna Farm Records Spring of 2013! Matt Adams is also the artist behind The Blank Tapes.
Related Events
Submit an Event