JKutchma w/ Adam Faucett, Matthew Paul Butler
March 16, 2014 @ 8:00 pm

-

11:00 pm

$7
Event Navigation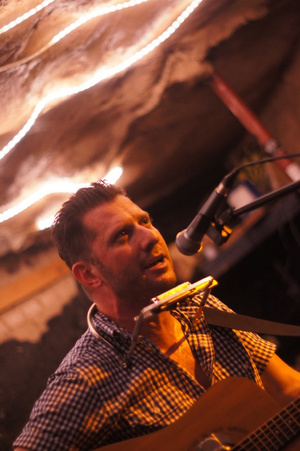 JKutchma w/ Adam Faucett, Matthew Paul Butler
Sun, March 16, 2014
Doors: 8:00 pm / Show: 9:00 pm
Local 506
Chapel Hill, NC
$7.00
JKutchma
Somewhere between Elvis Presley's honorable discharge and his immediate sequestration under Colonel Parker's fleshy, bejeweled wing, there existed a window of opportunity. What if, instead of "Paradise, Hawaiian Style," we'd heard a deeper exploration of country and gospel music; what if he'd been backed by the Funk Brothers or the Wrecking Crew; what if Americana hadn't come to mean either at best a rote recitation of Old Time music or at worst a bland, formulaic, slightly twangy version of Adult Contemporary? What if songs of genuine yearning, resolve, pain, and triumph drew in equal measure from both Hank Williams' high lonesome and D. Boon's credo, "Punk is whatever we made it to be."?
J Kutchma and the Five Fifths are interested in trying to find out what that could sound like. This is, of course, not to say that the band bears any resemblance to the rhythm section/force of nature behind Motown's hits or the greatest punk rock trio ever to climb in a van, only that the urgency with which they played, the trust they had in their bandmates, and the willingness to stumble upon How A Song Should Sound, to tear up the chart and start over—these are the hardest and best parts of playing music, and they're the whole reason these five got together in the first place.
Adam Faucett
n January 2011, Arkansas songwriter and "folk rock soul brother" Adam Faucett will release his third solo LP, "More Like A Temple" and embark on a US Tour which will run through most of the year.
Drawing comparisons from Townes Van Zandt to Tim Buckley to Lou Reed, Arkansas born and bred Adam Faucett is a tough act to label. Most known for his powerful, almost operatic voice and intricate finger-picking, Adam's songs are characterized by lush, warm melodies and shifty-smiled lyrics nestled on top of subliminal guitar work. It's a sound the Arkansas native has coined "southern soul swamp opera."
Originally from Benton, AR, now residing in Little Rock, Adam has previously released two albums as a solo artist and one with now disbanded Russellville, AR local heroes, Taught The Rabbits, which Adam has called "A Lush, Pink Floyd and Sonic Youth-inspired group; kids who grew up in a gravel pit tipping their hats to their psychedelic heroes from so far away." Taught The Rabbits' One But Just Another and Mallet and Watch were released in 2001 and 2006 and the band established a strong local following, touring regionally and sharing the stage with Calexico and Lucero.
In 2006 Adam relocated to Chicago where he wrote the material that would become his first solo album and began playing solo shows around town. In 2007, he moved back to Arkansas to record "The Great Basking Shark" with longtime friend and producer Darian Stribling (Bob Goblin). The record displayed a focus on storytelling and roots arrangements, showcasing Faucett's strong vocals, unique finger-picking, and banjo playing. Adam toured extensively throughout the US in support of the album, playing over 100 shows from coast to coast.
In 2008, Adam returned to Blue Chair Studio to record "Show Me Magic, Show Me Out" (Blue Tint) with Stribling, and newly assembled live band "The Tall Grass" , comprised of Little Rock musicians Chad Conder (drums)  and Jonny D. (bass). "Show Me Magic, Show Me Out" demonstrated the electric folk soul sound that the band had been honing in live shows and marked further evolution in Faucett's songwriting. The Arkansas Times raved "Even the greatest American folk singers would be hard-pressed to leave such a vivid account…".  Faucett continued his rigorous touring schedule, opening for bands including The Legendary Shack Shakers, Vetiver, Chuck Ragan of Hot Water Music, Damien Jurado and Elf Power.
Faucett's newest release "More Like  A Temple" pushes out in all directions, simultaneously more folk, more rock, more melodic, more soul, and more sinister than all of his previous work. Love and Sweet Maureen come on like Otis Redding sitting in on a Pavement single. Morphine is a haunted morning-after reflection with a guitar hook that stays with you until the next morning. The swamp rock foreshadowing of Gator, the space folk of Saturday,  and the Zeppelin vs. White Stripes riffs of Do What I Say present Faucett as part folk crooner, part celestial traveler, part Arkie rock hero – all parts in sharp control of their faculties as writer, storyteller, singer, composer, and guitarist.
Adam will be touring throughout 2011, playing his songs for friends, fans, and strangers alike.
Matthew Paul Butler
"…Instead, he's found a kind of solace and inner satisfaction playing a very different role: That of the uncannily charismatic, accessibly eccentric, finger-picking indie-folk troubadour. Wasted notes and excess verbiage aren't part of Butler's lexicon. And while turbulent emotions surface through-out the six songs on "Hard Headed" — a disc that ends with the ambient sound of a rainstorm, framing the melan-choly of the last two tracks — Butler doesn't quite fit the mold of the confessional songwriter. "
Related Events
Submit an Event