Hot Diggity Days at University Mall
Event Navigation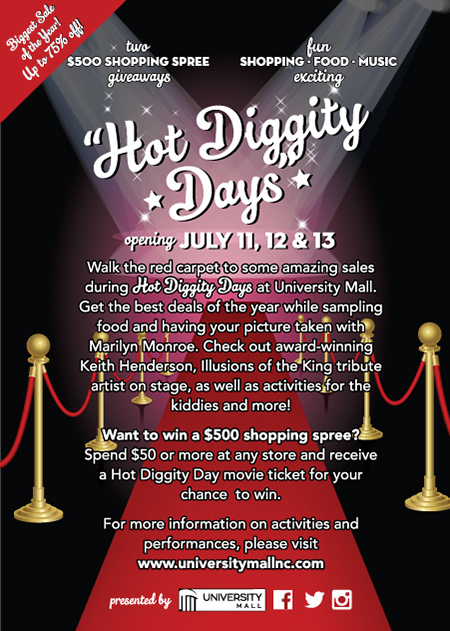 "Hot Diggity Days"
Opening July 11, 12, and 13 at University Mall.
Walk the red carpet to some amazing sales during Hot Diggity Days at University Mall. Get the best deals of the year while sampling food and having your picture taken with Marilyn Monroe. Check out award-winning Keith Henderson, Illusions of the King tribute artist on stage, as well as activities for the kiddies and more!
Want to win a $500 shopping spree?
Spend $50 or more at any store and receive a Hot Diggity Day movie ticket for your chance to win!
Saturday, July 12 Stage Performances:
12 – 2 pm – Marilyn Monroe
1-2 pm – Shaun Jay Magic
4-6 pm – Rat Pack Tap Dance
For more details about Hot Diggity Days, visit:  http://www.universitymallnc.com/event/hot-diggity-days/2145438959
For a list of all stage performances, visit:  http://www.universitymallnc.com/event/hot-diggity-days-stage-performances/2145440017
Related Events
Submit an Event