Breaking Barth Syndrome
July 27, 2014 @ 2:00 pm

-

4:30 pm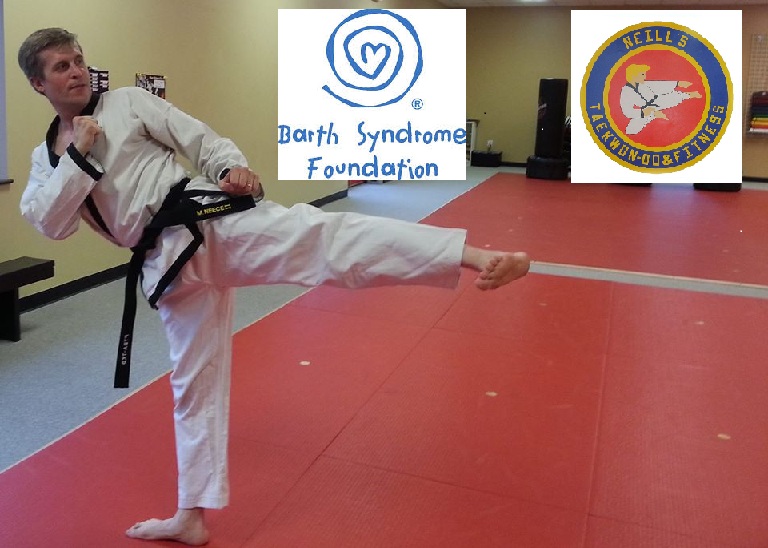 Man with Broken Hand to Break 500 boards in Fundraiser to Help Eradicate Rare Childhood Disease
Local martial artist Michael Neece will break 500 pine boards on July 27, 2 – 4:30 p.m.  at Neill's Taekwondo in Chapel Hill to honor friends who have lost a child to Barth Syndrome and who raise another son who is also afflicted. Barth Syndrome is an ultra-rare disease which affects fewer than 200 individuals worldwide. Michael Neece wanted to find a way to honor his friends, help raise funds for a cure for Barth Syndrome, and take on a difficult challenge for a martial artist, thus the BREAKING BARTH SYNDROME event was created.
Neece approached his friend and colleague, Erik Neill of Neill's Taekwondo and Fitness in Chapel Hill, NC, about hosting and supporting the event.  Master Neill will provide not only the venue and training for Michael Neece to take on this physical and mental challenge, he will also provide some funding to purchase the boards.
Kate and Sandt Michener worked with Neece in the early 2000's at what is now the McAuliffe-Shepard Discovery Center in Concord, New Hampshire.  Their first son, Rhys, died very unexpectedly of dilated cardiomyopathy on 10 February 2011 at the age of 6 months.  Bryn was born on 15 December 2011 and, although he was tiny, he was deemed "gestationally appropriate".  Both were diagnosed with having the rare Barth Syndrome after tissue samples from Rhys were analyzed only a few months after Bryn's arrival.
The event at Neill's Taekwondo and Fitness, located at 1706 East Franklin Street in Chapel Hill, is open to all with a suggested minimum donation to the Barth Syndrome Foundation of $5.  A computer will be ready at the door to assist any who wish to send donations, but donations can be made at any time through the end of July 27th at: http://www.razoo.com/story/Breaking-Barth-Syndrome?referral_code=share .
Visit Facebook at https://www.facebook.com/events/1456211487953857/ to learn more about the event.  For more information about the Barth Syndrome Foundation, visit www.barthsyndrome.org.
###
Related Events
Submit an Event