6th Annual Farmer Foodshare Challenge
June 17, 2014

-

June 21, 2014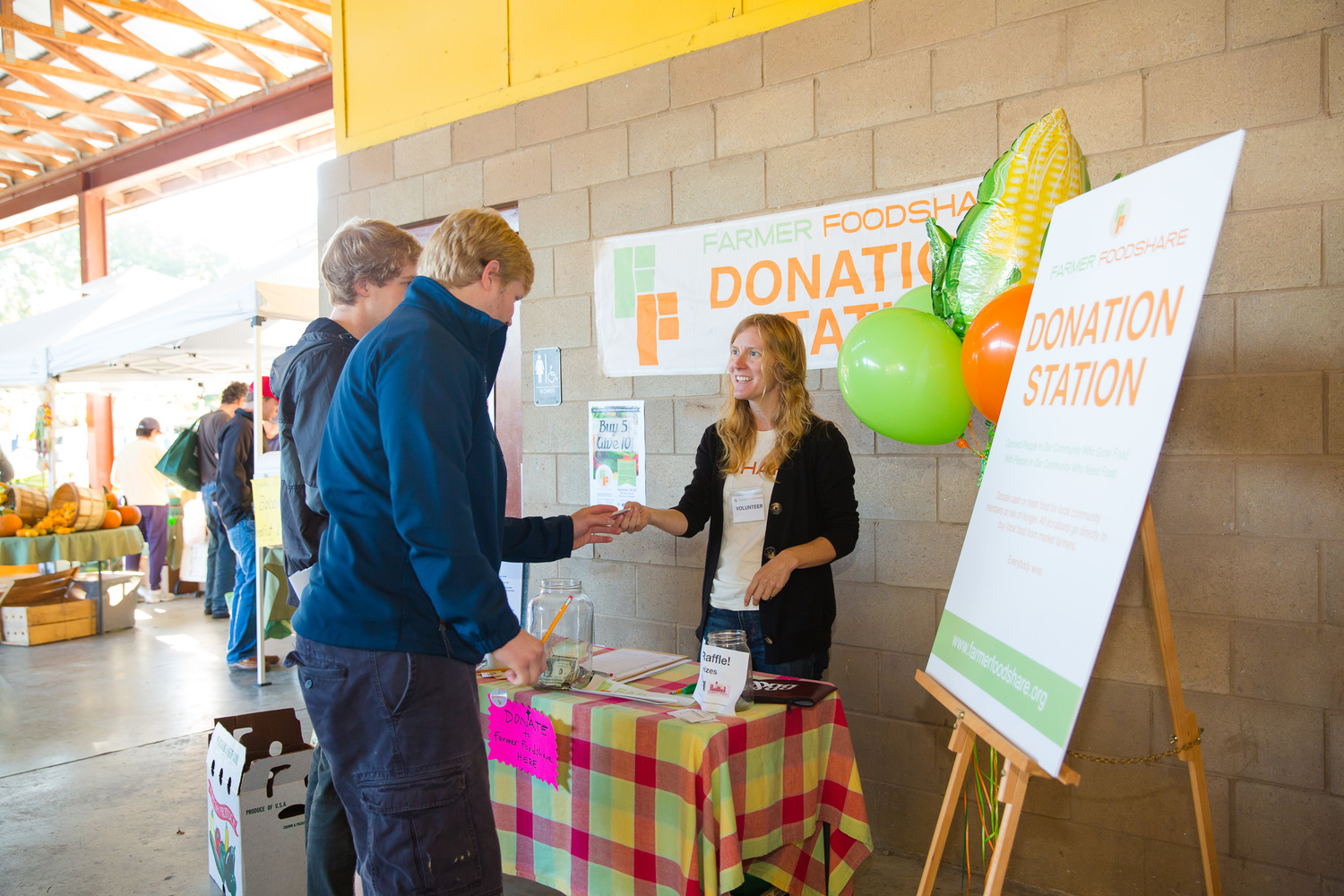 Farmer Foodshare Challenges Triangle to Fight Local Hunger
Triangle Farmers' Markets "Preserve the Season" with a Buying Fund for Fresh Local Food for Local Hunger June 17-21
May 28, 2014 – Durham, NC – Local farmers markets and nonprofit Farmer Foodshare challenge the Triangle community to take a stand against local hunger! The can do so by coming out to local farmers markets and make a donation to create a winter buying reserve for purchasing fresh food for local hunger during the winter when food donations are scarce. The Sixth Annual Farmer Foodshare Challenge will take place from June 1st to June 21st with the charge to the community to "Preserve the Season."  One hundred percent of all donations will be used to purchase fresh food from NC family farms for hunger agencies serving families.
"Despite our state's rich agricultural production, 1 in 5 people in NC struggle to access enough food." Said Katy Phillips, Farmer Foodshare's Donation Station Manager. "At the same time, seasonal supply presents a system paradox. There is so much bounty during the summer that fresh food often goes to waste, and during the winter when supply is scarce fresh food is in short supply. The Farmer Foodshare "Preserve the Season" Challenge aims to change that."
This year Farmer Foodshare challenges the community to "preserve the season" by making cash donations at market in June to create a buying reserve for the winter, when crops are less bountiful and people need food assistance more than ever. Each participating farmers market will have a unique goal, with an overall aim of raising $5000 at Triangle markets. Emphasizing the "Preserve the Season" theme, Donation Stations will provide information on preserving techniques, such as freezing, quick pickling, and jamming to teach partners how to preserve the bounty of the summer supply that is received regularly through the Donation Stations.
June 17-21, Farmer Foodshare volunteers will be out en masse at farmers' markets across the Triangle to maximize donations and shed light on food scarcity and how NC agriculture and local farms can help solve it. Community members are being asked to come to the market, donate food, or cash food and Farmer Foodshare will ensure it gets to community agencies serving fresh food to local families and children.
Challenge Activities
On June 21st each farmers market's Donation Station will have a kid's area and art supplies for children to engage with the concepts of fresh food and have fun while their parents chat with local volunteers about hunger issues in their area.
Additionally, many businesses from throughout the Triangle area have taken the Challenge by donating to the raffle. There are gift cards and baskets, t-shirts, pint glasses and more available from participating businesses. Starting on June 1st you'll be able to go to the Farmer Foodshare website and purchase raffle tickets. The drawing will be held on June 21st at the culmination of the event.
Challenge Sponsors:
Andrea Weigl
Caffe Driade
Carrboro Coffee Company
The Cupcake Shoppe
Flyleaf Books
Fosters Market
Locopops
Market Street Coffee
The Pig
Pine State Flowers
Sandwhich
Steel String Brewery
Videri Chocolate
Vimala's Curryblossom Cafe
Participating Markets and Recipient Agencies
Join over 200 local farms, 14 farmers markets and 18 recipient agencies in "preserving the season" this June.
Carrboro Farmers' Market: Wednesday from 3:00-6:00; Saturday from 8-12
Recipient:  TABLE, HRC, and PORCH
Chapel Hill Farmers' Market: Possibly Tuesday from 3:30-6:30; Saturday from 8-12
Recipient: CLUB NOVA
Durham Farmers Market: Wednesday from 3:30-6:30; Saturday from 8-12
Recipient: Iglesia Emanuel
South Durham Farmers' Market: Saturday from 8-12
Recipient: Durham Crisis Center
Eno River Farmers Market: Saturday from 8-12
Recipient: Central Elementary School Kids
Hillsborough Farmers Market: Saturday from 8-12
Recipient: Friends of the DSS
Pittsboro Farmers' Market: Saturday from 8-12
Recipient: FVRC and CORA
Fearrington Farmers' Market: Tuesday from 4-6
Recipient: FVRC, Take and Eat Pantry, Fuel Up
Chatham Mills Farmers' Market: Saturday from 8-1
Recipient: St. Bartholomew's Community Lunch
Western Wake Farmers' Market: Saturday from 8-12
Recipient: IFSS and Grow our Kids
Cary Downtown Farmers Market: Saturday from 8-12
Recipient: Dorcas Ministries
Raleigh Downtown Farmers Market: Wednesday from 10-2
Recipient: The Healing Place
About Farmer Foodshare
After seeing gaps in the local food system, farmers and shoppers at the Carrboro Farmers Market founded Farmer Foodshare in 2009. Farmer Foodshare now serves fresh local produce to over 20,000 people a year with the support of dozens of local farmers, farmers markets, community volunteers, student groups, and non-profit partners. Farmer Foodshare strives to make fresh, local food available to everyone in the community, and to make sure farmers growing it make a healthy living. To support the Farmer Foodshare Challenge go to www.farmerfoodshare.org/challenge
Media Contact:
Britt Foxworth
(919) 883-5136
Related Events
Submit an Event