2014 Chapel Hill Police Dept. Annual Golf Tournament
May 5, 2014
See event website for details
Event Navigation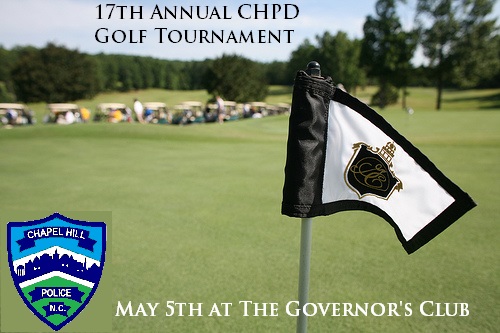 2014 CHAPEL HILL POLICE DEPARTMENT
Law Enforcement Torch Run®
The 17th Annual Chapel Hill Police Charity Golf Tournament benefiting Special Olympics North Carolina will take place on Monday, May 5th, 2014 at the prestigious Governors Club, Mt. Carmel Church Road, Chapel Hill, NC.
This tournament is a major part of our fund-raising efforts in conjunction with the 2014 Law Enforcement Torch Run for Special Olympics. All the money we raise goes directly to help cover the expenses of the Summer/Winter/Fall State Special Olympic Games. In the last sixteen years, this tournament has raised over $1,040,000 through your continued support. It has grown to become one of the largest charity events held at the Governors Club.
Last year, law enforcement officers in North Carolina raised over $1,010,000 for Special Olympics. The Chapel Hill Police Department is pleased to announce that we raised a little over $48,000 , which placed us as the second highest fundraising department in the state out of 115 departments participating. Our department's goal this year is to reach $60,000.
We look forward to your participation in this very worthwhile event. Come have fun and contribute to a great cause at the same time. The first 27 teams to respond will have their choice of starting position on the tees. In addition, a special prize drawing from the team captains names of the first 27 teams at the opening ceremony will yield a lucky winner one round of golf for four at Governors Club. Please ensure your team placement with our event as early as possible.

Below you will find an application distributed to the corporate community, law enforcement officers, and the general public. Please do not hesitate to call Officer Phil Smith, our Torch Run Coordinator, if you have any questions or want more information. You can reach Officer Smith at (919) 968-2864 or by email:psmith@townofchapelhill.org.
We sincerely appreciate your consideration and support of Law Enforcement and Special Olympics North Carolina!
Applications and money for teams or individuals needs to be in by April 16, 2014. If you wish to be an Event Sponsor or Tee Sponsor, please call us for more information.
May 5th, 2014
"Registration Begins at 8:00 am"
"Shotgun start at 10:30am"
Governors Club, Chapel Hill, NC
Supported by the Chapel Hill Police Department
All proceeds from this event go to Special Olympics North Carolina. We help to fund the Summer,
Fall and Winter Games with proceeds raised through this and other fundraising events.
This is a "Net Superball Event."
All abilities are welcome.
Sign up as a foursome or as an individual golfer.
Each player receives a bag of "goodies", breakfast, boxed lunch, and Hor Douvres after the event.
A Special Events Package is available for $40 each at registration, which includes a chance for
one player to attempt a Hole-In-One shot for $1,000,000.00, entry into the $10,000.00 putting
contest, two mulligans per package and all other contests in the package.
You may also pay for your Special Events Package by credit card with this application.
Related Events
Submit an Event